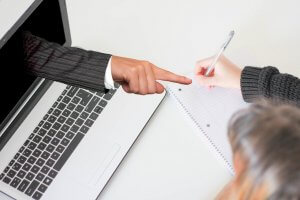 In previous years taking an online class was virtually impossible. But with technological advancements, the internet has become accessible to almost everyone in the world. More and more schools now offer long-distance programs at every academic level. Technology has allowed students to acquire an online college degree who juggles between family, work, and studying. However, a lot of people are a bit doubtful that an online degree is of less value as compared to an on-campus degree. It is a genuine concern, and that is why, in this article, we will take a look at how online classes work.
How to get started
First and foremost, identify an accredited college or university that offers online classes. Enroll for the course, and an instructor will guide you through the available courses. He/she will provide you with information such as course details, required materials, and the duration of the course. You will also be advised on how to log in and navigate the course space. Once the student has taken an online class, he/she is required to complete all the assignments, homework, quizzes, and even do exams. I know you're probably thinking that the hustle of attending class is now over, right? Well, I hate to break it to you, but even with online courses, you still attend class. The only difference is; you do that in the comfort of your living room.
Essential resources for an online class
The crucial thing needed is a reliable internet connection. As an online student one should be familiar with basic computer programs, word processing software and various internet browsers are very necessary. You will be using a lot of computers; hence having a computer or laptop is an added advantage. The machine should also be in good condition and functioning correctly. You know, to avoid any malfunctioning during class. Last but not least, your email account should be active and up to date. It will give you access to all the assignments, quizzes, and homework the professors assign in the course of your study
Taking an online class is, however, not easy. You have to listen or read an uploaded lecture from your teacher, work on complicated homework and assignment, and sometimes it becomes difficult to understand some of the subjects; hence you may struggle to solve your homework. But no worries, if you're looking for a reliable professional to take my online class, you can always reach out to us. So stop limiting yourself, make the bold move, and sign up for an online course.